Yesterday's China stock market rout, in which the Shanghai Composite tumbled the most since June 2016 to three month lows, and which prompted traders to question the dedication of Beijing's plunge protection team, appears to have been forgotten, with the Composite closing unchanged on Friday after some early session weakness, as Chinese yields declined broadly across the board from 3 years highs. As a result, world stocks hovered just below record highs, and set to reverse two straight weeks of losses, and with Asian markets mostly in the green, as MSCI's Asia-Pacific ex Japan index rose 0.2%, the optimism spread to Europe where Germany's IFO Business Climate hit a new record high...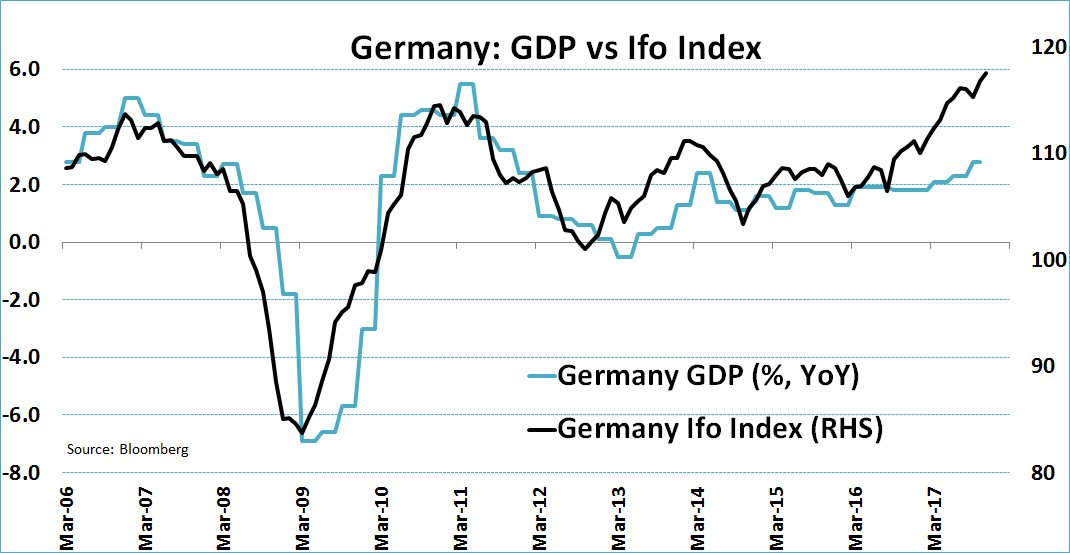 #

@jsblokland

#EUROBOOOM! #Germany's #Ifo index hits another record-high!

This now points to a Y/Y GDP growth of 4%...
It is worth keeping in mind that while European business optimism has never been higher, 90% of the responses to the survey were submitted before Angela Merkel's coalition talks collapsed. Still, the IFO print was in line with the latest November Markit PMIs, which also printed strong and beat consensus, with Eurozone's flash composite PMI rising to a 6.5 year high (57.5 vs. 56 expected) and is at a level that is broadly consistent with 3.5% yoy GDP growth, which Deutsche Bank called "a stunning figure for the continent." In addition to the strong IFO data, there was more good news out of Germany where the SPD is now reportedly ready to negotiate with Merkel to form a government and end the political deadlock. In response to these two developments, the EURUSD rose to the highest level since October 13...
Despite the strong currency European stocks which were in the red in early trading, turned positive, helped to an extent by news Asia would slash import tarfiffs in a boost for consumer goods companies, benefiting European exporters. The Stoxx Europe 600 advanced, also thanks to bank shares as Italian lenders were buoyed by a new proposal to deal with bad loans. "It's a bit of a Goldilocks situation (for economic growth). It is finely balanced and I think the European Central Bank has very much hinted at that in its actions, but at the moment I can't really see how this is going to be up-ended," said Ken Odeluga, market analyst at City Index. Ironically, as Germany's crisis appeared to easing, a new crisis emerged in Ireland, whose bond yields climbed to a 10-day high. The standoff over the Irish deputy leader may lead to an early election at a time when the government has to make key decisions on the Brexit process. Finally, with the US coming back from Thanksgiving holiday for a half-trading Friday, S&P futures are up 6 points, in fresh record territory, with early optimism among merchants expected to benefit from strong Black Friday sales.
# In FX, the US dollar remained under pressure after the minutes from the U.S. Federal Reserve's latest policy meeting highlighted concerns over persistently low inflation, pushing the DXY 0.2% lower. The Bloomberg Dollar Spot Index headed for its third week of losses, the longest losing streak since July, and is down 1.6% this month. While a drop in Treasuries supported the gauge initially, gains were capped by a rally in cable and demand for the yen after London open, although post-Thanksgiving volumes remained subdued. In Europe, bonds slipped as equities were mixed and crude oil rose. Indeed, as Bloomberg writes, a rebound in Treasury yields wasn't enough for the dollar to sustain early gains as the London session started off with decent demand for the euro and the pound amid modest post-Thanksgiving flows. Downside Dollar risks prevail on the charts, with momentum driven by the dovish tone from Federal Reserve Chair Janet Yellen earlier in the week amid lack of progress on U.S. tax reform.
Meanwhile, "euro bulls added longs in the spot market, according to traders in Europe and London, albeit in low volumes, with some desks understaffed on Friday" Bloomberg added. As we discussed earlier, the common currency rose to its strongest level in six weeks, with hedge funds and interbank accounts leading the move higher. The latter look more confident on euro gains after the latest European Central Bank account showed that a pickup in inflation isn't a prerequisite for policy makers to end monetary stimulus. The South African rand heavily underperforms as S&P and Moody's are due to reassess South Africa sovereign rating and potentially cut further. In commodities, crude futures hit a two-year high on the shutdown of Keystone pipeline, a major crude pipeline from Canada to the United States. WTI crude futures were up 0.9% at $58.53 a barrel from their last settlement. Brent was flattish at $63.46, down 0.1% on the day. In a sign of a tightening market, both crude benchmarks are in backwardation, making it unattractive for traders to store oil for later sale. Iron ore climbed to a two-month high, while industrial metals headed for the best weekly gain in six. Crude oil surged as OPEC and Russia were said to have agreed on a framework to extend supply cuts. Expected economic data include November PMIs. Canada's Valener is reporting earnings.
#
Market Snapshot
;
-
S&P 500 futures up 0.1% to 2,597.25
- STOXX Europe 600 up 0.2% to 387.68
- Nikkei up 0.1% to 22,550.85
- Topix up 0.2% to 1,780.56
- Hang Seng Index up 0.5% to 29,866.32
- Shanghai Composite up 0.06% to 3,353.82
- Euro up 0.1% to $1.1864
- Brent futures down 0.1% to $63.62/bbl
- Gold spot down 0.1% to $1,290.27
- U.S. Dollar Index down 0.1% to 93.10
#
Top Overnight News
;
- Former national security adviser Michael Flynn's lawyers have notified President Trump's legal team in recent days they can no longer discuss special counsel's investigation, NYT reports, adding it's an indication that Flynn is cooperating with prosecutors or negotiating such a deal
- China said it will further cut import taxes for a wide range of consumer goods in a bid to boost consumption
- Germany's biggest opposition party said it's open to talks on backing a government led by Chancellor Angela Merkel. The move came after the
- Green party urged Merkel to forge a coalition with the SPD, while ruling out further attempts to gain a place in any alliance.
- German Ifo business confidence rose to a record high of 117.5 in November vs estimate of 116.7 and 116.8 in October
- BOE official Silvana Tenreyro said two more rate increases will probably be needed to get inflation back to target, but Brexit will be the real determinant of where policy goes next
- The U.K. financial services regulator confirmed all 20 banks have agreed to support the London interbank offered rate until 2021 and will work toward developing an alternative benchmark
- ECB executive board member Benoit Coeure said ECB deposit rate will stay at minus 0.4% for a long time
- U.K. consumer confidence tumbled to 106.6 in November, the lowest level since the aftermath of the Brexit vote, according to a poll by YouGov and the Centre for Economics and Business Research
- Ireland's deputy PM is pressured to resign by opposition due to historical conduct; potential for fresh elections as PM support for deputy leads to standoff
- In a Thanksgiving address to troops, Trump credited his policies for allowing progress in Afghanistan and against Islamic State, and warned about sending sophisticated weapons to American allies that one day could become the enemy.
- U.K. Prime Minister Theresa May will meet European Union President Donald Tusk Friday as the country seeks guarantees that the bloc will allow stalled Brexit talks to make progress in exchange for new assurances over money.
- Dalian Exchange cuts trading fees for some iron ore futures contracts
- Noble Group Risks Equity Wipeout as Shares Retreat Yet Again
- Credit Suisse-Backed WeLab Is Said to Plan $500 Million IPO
- Temer Said to Agree on Brazil Pension Vote With House Chief....